Adhesive Matters: The importance of surface preparation for effective adhesion
A surface free from contamination is essential to securing a strong adhesive bond – but how can this be achieved?
The answer, quite simply, is through effective surface preparation. Let us take a look at different surface preparation products and techniques; from cleaners and degreasers – to primers and flux removers.
Abrasion
Mechanical abrasion is one of the most commonly used surface preparation methods and is suited to most materials.
The main objective of mechanical abrasion is to remove weak boundary layers, however this approach will also change the topography of the adherent, consequently increasing the bondable surface area. In addition, mechanical abrasion will enhance the adhesive's ability to fully wet the surface.
Popular abrasion methods include sandblasting, vapour honing and the use of abrasives or cleaning and finishing materials.
Sandblasting with fine sand can only be used on substrates sufficiently thick to prevent distortion while vapour honing is satisfactory when minimum reduction is desired in metal thickness.
Cleaners and Degreasers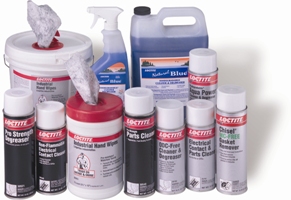 As the product name would suggest, cleaners and degreasers have been created to remove greases, oils, lubrication fluids, metal cuttings and fines from the surface that is to be bonded.
Cleaners and degreasers are highly effective and are available in both aqueous and solvent-based formulations.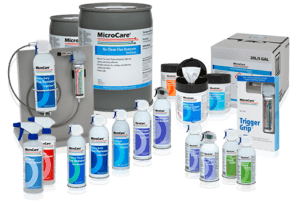 Loctite 7063 is an example of a solvent based formulation. As a final pre-assembly cleaning treatment, this hydrocarbon-based, non-CFC solvent is designed to be used as a spray or in immersion cleaning processes. On the other hand, Microcare MCC-BGA is an aqueous formulation. This stencil cleaner will remove all types of solder paste as well as uncured chip bonder and inks. Safe for use on webbing, frames and misprinted boards, MCC-BGA provides fast and thorough cleaning – even inside stencil apertures.
When choosing a cleaner or degreaser, the major factors to consider are dry time, residue, odour and substrate compatibility. Residue is a particularly important concern because if there is any secondary processing of the part, e.g., painting or bonding, a residue could interfere with that process. Substrate compatibility is another common concern when dealing with plastics and solvent-based cleaners.
For precious metals and jewels, degreasing will generally be entirely satisfactory, with the possible exception of silver where the tarnish should be removed with medium grit emery paper. A stabilised Trichlorethylene vapour phase degreaser is recommended.
Primers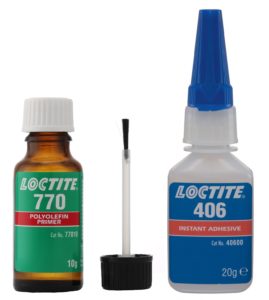 Primers are designed to enhance the bonding quality of adhesives. When applied as a surface coating, they will change the base of a surface to enable more effective adhesion.
The requirement for a primer is dependent on the material – for example a primer will be required when adhering to any porous substrate. This is because a pourous substrate will eventually absorb the adhesive that would normally create a long lasting bond. By using a primer, the adhesive's ability to wet out the surface is significantly increased, thus solving the problem.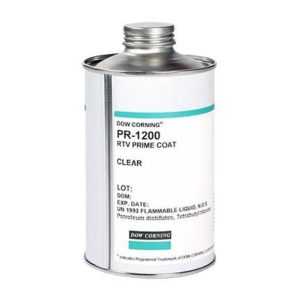 Plastic is another material requiring a primer – though the type of primer needed for this material can be very specific. For example, polyolefin requires a special polyolefin primer. Amongst a range of other primers, Henkel manufactures Loctite 770, a primer that has been designed to prepare the surface of difficult to bond plastics just like polyolefin and other low energy surfaces.
Another key priming product is Dow Corning PR-1200. Dispersed in naptha, PR-1200 is a one part primer available in clear or red that can be used on most metals, glass, ceramics and masonry to enhance adhesion. Typically applied in a thin layer, PR-1200 and indeed other Dow Corning primers, are dilute solutions of silane coupling agents and other active ingredients. These products should be applied in a very light, even coat by dipping or spraying and excess material should be wiped off to avoid over application.
Accelerators and Activators
Both adhesive accelerators and activators are applied ahead of the adhesive act as catalysts. While both product types are designed to increase cure time, activators also improve the quality of adhesion.
One of the most commonly used adhesive activators is Loctite 7455 – used for applications requiring an increased cure speed. While this activator can be applied before or after the bond, it is particularly suited to post-application on cyanoacrylate adhesives, since it ensures rapid fixturing between close fitting parts. Typical applications for activators include securing wires or coils to PCB's, tamper proofing adjustable components and mounting stand off's, edge guides and board stiffeners.
Moving onto accelerators, while this product type is used to speed up cure time, users should be aware of the 'trade off' in the bond strength. For example, when bonding a very porous material with a cyanoacrylate, the application of an accelerator may increase adhesion by causing the cure before the adhesive is fully absorbed. Where possible it is therefore better to use an activator than an accelerator.
Flux Removers (or defluxers as they are sometimes known)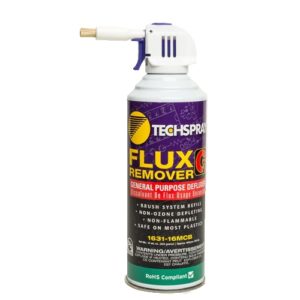 Flux removers are designed to remove flux residues and other contaminants that may be found on printed circuit boards due to rework, repair or manufacture.
Used before the application of an encapsulant or conformal coating, flux removers play a critical part in ensuring reliable circuitry.
Microcare MCC-PW2101 Power Clean is a flux remover that promises to deflux high temperature lead-free solder residues. Fast drying and non-flammable, this PowerClean product will even clean oils and inks.
Another popular Flux Remover is Microcare MCC-UFR107 Universal Flux Remover which is designed to safely remove contamination and soils that can impact the functionality and reliability of electronics. The fast drying and low aroma properties make it ideal for cleaning electronics during rework and repair, spot cleaning or in-field service repairs.
Conclusion
Surface preparation is undoubtedly an important process for effective adhesion, however the approach to this process, cannot be considered as 'one size fits all'.
Important factors to be considered include the application in question, material type and the form of contamination. The key surface preparation products and techniques have been outlined above, along with an explanation of their suitability for certain materials and applications.
If you have any further questions on this topic please don't hesitate to Ask The Glue Doctor – who will be happy to answer all of your technical questions.