Soldering : The Basics
While there are adhesives and other materials capable of bonding metals, soldering tends to be the preferred method of joining smaller more intricate metal components and is commonly used in the electronics production assembly line.
The soldering process involves melting and flowing a filler metal or solder, into the joint with the filler metal having a lower melting point than the adjoining metal.
Though it may sound complex, soldering is actually a fairly straightforward process, however it is crucial that you have the correct tools for the job. In this latest blog post, we explore the different soldering products and equipment available.
Soldering Workstation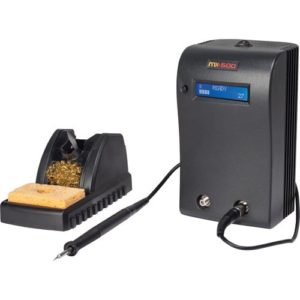 A standard Soldering System is required for any soldering work and is comprised of three main components; a soldering iron tool, a power supply and a work stand.
The power supply transmits heat energy to the soldering iron tool by passing an electric current through a resistive heating element.
The Soldering Iron is composed of a heated metal tip and an insulated handle and the heat supplied from the tip will melt solder allowing it to flow into the joint between the two pieces to be joined. Soldering Irons normally have interchangeable tips, allowing users to change the size and shape of their hand-held soldering tool, depending on the type of work being carried out. Fine, conical tips tend to be used to be well suited to electronics applications, while pyramid tips with a flat face are perfect for soldering sheet metal.
A work stand is used to rest the soldering iron when it is necessary for the user to take a pause in the soldering process. There are different types of work stand available including 'auto-sleep' and 'tip-savers' to help prolong the tip cartridge life and most should include a cellulose sponge for cleaning solder from the tip.
MX-500 from Metcal, the global leader in the manufacture of Soldering Systems, is the go-to unit for soldering, de-soldering and convection re-work. This Bench top icon features a switchable dual port and 40 Watt operation and is available with either one hand-piece or two. Safety is at the heart of the MX-500's design, with an AC ground monitor fitted to detect any possible power line ground failures, before alerting the user and then shutting the equipment down automatically. The MX-500 also benefits from what is known as 'SmartHeat Technology' whereby each cartridge is equipped with a self-regulating heater which senses its own temperature and is therefore able to maintain its pre-set ideal temperature.
Other notable features of the MX-500 include a user-programmable 'power-save' mode that is adjustable from between 10 and 120 minutes, as well as a universal power supply, making the equipment suitable for worldwide operation.
Soldering Materials
Now that we have established the core soldering equipment, let us consider the solder materials associated with the soldering process including solder, solder paste, flux, masking compounds and cleaning wicks.
Solder is a metal alloy, made up with a combination of tin and lead. Solder is normally solid – either in bar form, whereby it would be melted in a solder bath before parts are dipped into it, or wire form, which is hand fed to the solder tip then melted. Before applying solder, the surface temperature of the parts to be soldered must be elevated above the melting point of solder and to ensure a strong solder joint, these parts must be held in place until the solder solidifies.
Solder Paste is a special form of solder, often used in PCB assembly. Unlike standard solder, solder paste is liquid in form and is dispensed using a syringe dispenser. Henkel Loctite's GC10 solder paste is the first material of its kind to boost temperature stability. The innovative formulation is temperature stable at 26.5°C for one year and stable at temperatures of up to 40°C for one month.

Flux is a crucial material in soldering process since it is used to remove and reduce the oxides that often form when hot metals mix with the air. Fluxes are composed of natural or synthetic rosins that make it very corrosive at solder melt temperatures, thus enabling it to remove any trace of metal oxide.
Masking Compounds perform a protective function in the soldering process and are used to prevent solder from sticking to the areas surrounding the joint, where solder is obviously not wanted. Dymax manufacture a range of soldering masking compounds, such as Dymax 9-318-F, a solvent and silicone free masking compound that provides rapid masking. This maskant is highly thixotropic, making it ideal for dispensing onto boards that may be difficult to mask with other methods.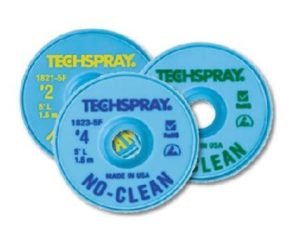 Cleaning Wicks, also referred to as desoldering braids or solder wicks, are pre-fluxed copper wires used to remove excess solder and other components. By placing a length of solder braid onto the connection with a hot iron, the solder is removed as it wicks up into braid. Techspray is a leading manufacturer of Cleaning Wicks, with products available in different specifications to suit varying application requirements.
Top Tips for Soldering
Solder will simply not join to a greasy surface, therefore you must ensure that you thoroughly clean the area to be soldered before beginning the process.
Be careful to use just the right amount of solder! Too much solder will cause the joint to form a 'blob' yet too little solder will lead to a physically weak joint that may not be complete nor electrically sound.
Don't panic if you have messed up your attempt at soldering – solder can be removed with a de-soldering tool or cleaning wick allowing you to start over again.
When you have finished soldering, allow the soldered joint to cool naturally and resist the urge to interfere with the drying process.
Before unplugging the soldering iron, be sure to clean the soldering tip on a damp sponge, before re-tinning with a fresh solder. This action will protect the tip's tin plating and prevents the possibility of oxidisation.
After soldering, it is also important to remove flux residue with the help of a cleaning solvent or designated flux remover.
Over to you…
If you have any additional questions about Soldering Materials and Equipment, please get in touch with the Ellsworth Glue Doctor. As an expert in the processes of joining and bonding, he has the knowledge to answer any questions you may have and will be happy to help select the soldering system best matched to your particular application.
Shop our range of solder equipment and solder materials now.