With modern advances in technology, and electronic products becoming ever smaller, the use of thermal management materials has become essential to electronics device manufacturers to address and mitigate the thermal demands of today's electronic devices.
A broad range of Thermal Management Materials are available in the market place – from thermally conductive adhesives and encapsulants, to thermal pastes and greases.
In the first blog post of 2018, we've outlined the different types of thermal materials on the market, and shared the standout products within each category.
Thermally Conductive Adhesives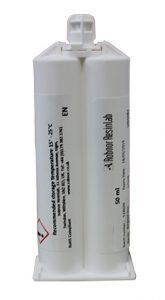 Thermally Conductive Adhesives have been developed specifically for applications where heat transfer is essential. This type of thermal management material offers enhanced thermal stability, chemical resistance and higher temperature properties.
Robnor ResinLab PX449TC is an example of a flame retardant thermally conductive adhesive with high adhesion, high electrical insulation characteristics and good chemical and water resistance. This adhesive is most appropriate for the bonding and sealing of electric components, most circuit board components and plastics and substrates.
PX628H is another thermally conductive adhesive from Robnor ResinLab with excellent adhesion to a wide variety of substrates. With high impact resistance, this adhesive has a long pot life and convenient mix ratio to ensure maximum strength when bonding metal and composite parts.
Thermally Conductive Encapsulants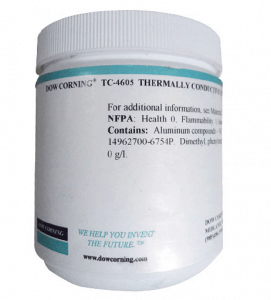 Thermally Conductive Encapsulants are designed to dissipate heat from sensitive electronic components and extend the life span of devices whilst providing environmental protection.
Dow Corning TC-4605 thermally conductive encapsulant is a two component silicone rubber material, offering excellent dielectric properties. Curing with heat, TC-4605 forms as a rubber that is elastic, thermally conductive, flame retardant and repairable.
Dow Corning TC-6011 cures at room temperature to provide an impressive flowability and workability. With good adhesion and reliability, TC-6011 can be applied with manual mixing and potting and automated or manual needle dispensing.
Adhesive Pastes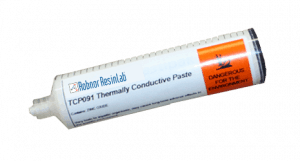 Adhesive pastes create a robust mechanical attachment without the need for screws and clips. As a result of this, device size and weight can be reduced and the product can be kept in line with the trend towards small electronics.
Robnor ResinLab TCP091 silicone-free paste has been specially formulated to provide efficient and reliable heat transfer across the interface between electronic components. Developed to optimise performance, TCP091 is a general purpose, versatile compound with good thermal conductivity and excellent dielectric properties at all frequencies.
Thermal Greases
Commonly used as an interface between heat sinks and heat sources to eliminate air gaps or spaces for maximum heat transfer, thermal greases are advantageous for use in high thermal performance applications where minimal bondline thickness is essential. Functioning immediately after application, thermal greases can compensate for voids easily. Additional advantages of thermal greases include thermal resistance, bond line thickness, re-workability and a lower overall cost.
One of the most popular thermal greases available is LORD CoolTherm™ TC-501 Thermal Grease, a solvent-free silicone thermal interface material which provides high thermal conductivity and low thermal resistance for applications in which superior heat dissipation is required. Featuring high reliability, TC-501 eliminates pump-out, provides excellent resistance to moisture and temperature cycling. TC-501 achieves thin bondlines of 25-50 microns (1-2 mils) whilst minimising the thermal pathway and maximising heat flow.
Thermal Gap Fillers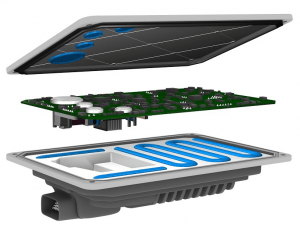 Thermally Conductive Gap Fillers are growing in popularity with large volume applications and heat sinks. Available in various levels of softness and conductivity, thermal gap fillers increase heat transfer efficiency with voids and air pockets acting as a thermal insulation for heat transfer between the heat source and sink.
Dow Corning TC-4525 Thermally Conductive Gap Filler is a soft an compressible silicone material which dissipates heat from electronic devices like printed circuit boards by conducting it to a heat sink such as an aluminium housing. Well suited for automated dispensing using standard meter mix equipment, TC-4525 has excellent thixotropic properties and an enhanced processing experience thanks to its smooth dispensability and assembly.
To make an enquiry about any of our Thermal Management Materials, contact Ellsworth Adhesives Europe via email: infoeurope@ellsworth.com or alternatively call 01355 321122.
If you are still unsure which Thermal Management Material is best suited to your electronic device, don't hesitate to contact 'The Glue Doctor' who can assist you with your choice.