UV Light Curing is a speed curing process in which high intensity ultraviolet light is used to create a photochemical reaction that instantly cures inks, adhesives, coatings and other materials.
There are a wide selection of light curable materials on the market – from adhesives and coatings to maskants and potting compounds. UV curing now has an increasingly greater importance in the modern manufacturing sector and has been deemed as the smart solution for equipment manufacturers.
Light guides are a key component for efficient UV curing as they transmit UV and visible energy from a source mounted inside of a spot-curing unit to the curing area. Several factors should be considered when choosing a light guide for your system which will be outlined in this blog.
Light Guides Overview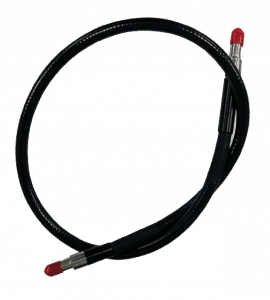 A broad range of light guides are on offer, manufactured by our vendor partner Dymax. These light guides deliver high intensity UV light efficiently from UV spot lamp curing systems and are available in a long-lasting liquid or fibre form in single and multi-legged configurations or various lengths.
Liquid light guides are optical instruments consisting of a light conducting liquid core within plastic tubing. They are the most economical method for manufacturers aiming to deliver high intensity UV light to adhesives and coatings. Liquid light guides are also available in two-pole, three-pole and four-pole configurations to allow UV curing of multiple points simultaneously.
There are several benefits of using a liquid light guide including excellent cold light properties, ensuring no danger of individual fibre breakup as well as no transmission of infrared radiation.
Liquid light guides are the standard light guides offered by Dymax however Quartz Fibre light guides are also available as an alternative when maximum transmittance efficiency is essential. Additional advantages include greater flexibility in the curing process and easy customisation.
Factors to consider when selecting a Light Guide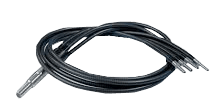 Many factors should be considered when selecting the most suitable light guide for your manufacturing process including length, diameter, multi-pole, connection and curing intensity versus distance.
DIMENSIONS
Light guides are usually one metre long, however a wide variety of other lengths are on offer if your application requires a more custom length.
Dymax Single pole light guides are available with 3mm, 5mm or 8mm inside diameters.
3mm – The standard size
5mm – Delivers a higher intensity
8mm – Allows for more curing power thanks to its larger light guide opening which captures more of the light emitted from the bulb.
MULTI OR SINGLE POLE? 
Light which is emitted from spot lamps can be channelled through a single pole light guide or split between multiple pole light guides. Each pole of a multi-pole light guide emits equal intensity (typically +/- 10% for liquid filled light guides), and are available liquid-filled or quartz fibre with all sharing a common shutter. Standard Dymax multi-pole lightguides incorporate integrating rods to cure multiple points simultaneously with a more balanced output from pole to pole. On the other hand, single pole light guides offer a higher minimum initial intensity (W/cm²) and typical intensity at 2000 hours(W/cm²), ensuring light is delivered with much greater strength and depth to the target object.
CONNECTION
Two types of connectors are used in UV light guides, "Wolf" and "D", both of which are available from Dymax. It is important to note "D" connectors are an industry standard and compatible with all existing Dymax lamp designs, whilst "Wolf" connectors have been designed for the previous generation of Dymax lamps (PC-3, PC-3 Ultra and 3010-EC). "Wolf" connectors remain fully compatible with all light guides.
INTENSITY V DISTANCE
When taking into consideration curing area/intensity versus distance, the UV and visible light emitted from a light guide separates. Therefore, intensity decreases and curing area increases with distance from the end of the light guide.
Light Guide Accessories
A number of accessories are available for use with light guides including the single light guide mounting stand, acrylic light guide mounting stand and light guide stand expansion kit which can enhance the UV curing process.
Filter mount assemblies can be purchased to broaden the life of light guides and are more efficient than glass fibre optics for transmission in the visible range.
Optical bandwidth Cool Blue™ filters extend liquid light guide life and offer additional curing options for applications requiring UV light cure.
Concluding Thoughts
By using Dymax light guides when UV curing adhesives, sealants and coatings you can be assured of a more rapid and controlled cure.
Dymax light guides have been manufactured with a robust mechanical design and incorporate top of the range technology to minimise degradation of light intensity whilst transmitting the highest light intensity available for UV curing.
To make an enquiry about any of our Light guides, contact Ellsworth Adhesives Europe via email: infoeurope@ellsworth.com or alternatively call 01355 321122.
If you are still unsure which light guide is best suited to your UV curing materials and equipment, don't hesitate to contact 'The Glue Doctor' who can assist you with your choice.