Ellsworth Adhesives Europe Launch New Swedish Website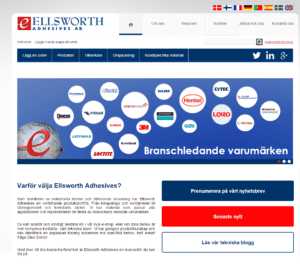 Ellsworth Adhesives Europe, leading distributor of adhesives, specialty chemicals and adhesive dispensing equipment, has just announced the launch of its new Swedish website.
Ellsworth Adhesives Sweden was established in 2003, following the acquisition of Sikema AB, a local distributor of adhesive materials. Thirteen years on, Ellsworth Sweden has gone from strength to strength and bosses at Ellsworth Adhesives Europe are keen to grow this market even further.
Managing Director of Ellsworth Adhesives Europe, John Henderson comments "Our position in the Swedish market is strong, but there is always room for growth. With the creation of a dedicated Ellsworth Sweden website, we hope to attract an even wider customer base in this territory."
The new Swedish website has all the same features and functions as the Ellsworth Adhesives Europe master site, with the key pages translated into the Swedish language. In addition, the new Swedish site is mobile friendly, allowing users to access it 'on the go' without facing a miniscule screen that is difficult to read. With a dedicated flexible theme and responsive design means that the layout will scale up or down adapting to suit the device from which it is being accessed.
The new Ellsworth Adhesives Sweden website is now live and can viewed by visiting: http://ellsworthadhesives.co.uk/home-swedish/