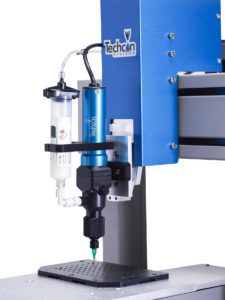 Ellsworth Adhesives Europe has today announced addition of the newly developed TS8100 Series Positive Displacement PC Pump to its extensive portfolio of dispensing equipment. Now available to order, this volumetric pump is designed with the ability to dispense a diverse range of fluids including low viscosity coatings to high viscosity greases.
Manufactured with a unique method, this pump is based on progressive cavity (PC) technology, with a special stator and rotor design to create an accurate and consistent dispensing output. In turn, Techcon systems have the capability to serve high end applications that require precise and repeatable outputs of ± 1% tolerance – the unique selling point of this pump.
This continuously volumetric dispense pump guarantees there will be no change to the shape or size of the fluid, due to the turning rotor moving the fluid in tightly sealed cavities through the stator's fluid chamber and producing a volumetric fluid flow with the ability to adjust shot size. As such, the efficiency of this system can be assured by the formulation and ability of this stator.
A high precision system, the TS8100 encapsulates this distinctive stator and rotor design to achieve a coherent dispensing output, generating a flow rate of 0.15-1.04 ml/min and viscosity range of 1-300,000 cps whilst encompassing a number of substantial features consumers can benefit from including: adjustable flow rate, suck-back action, feedback from the controller, continuous dispensing and compatibility with abrasive materials, low maintenance requirement and an easy to clean system.
Ideal for use with a variety of applications and industries including: optical bonding, conformal coating, potting applications and encapsulation, the TS8100 is able to meet the needs of the vast majority of end-users. Included with a standard system is a syringe bracket, mounting bracket kit, luer lock fitting, cleaning kit and dispensing tip selection pack.
Ellsworth Adhesives Europe is an official distributor of Techcon products. To enquire about this system or any other products within the Ellsworth range please contact: infoeurope@ellsworth.com.
Visit the Ellsworth Adhesives Europe website: http://ellsworthadhesives.co.uk/