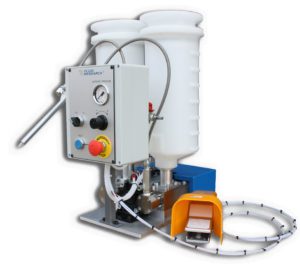 Ellsworth Adhesives Europe is pleased to confirm availability of the latest mix and dispense machine to hit the market – the LC50 BP from Fluid Research Ltd (formerly known as Liquid Control).
The addition of the LC50 BP enhances the already extensive portfolio of adhesive dispensing equipment on offer at Ellsworth Adhesives Europe which caters to every budget.
The LC50BP is designed to accommodate the more modest budget, without compromising on results. Smart, reliable and efficient, the LC50BP table top machine has been designed to suit a diverse range of manufacturing requirements. Its compact size makes it ideal for installation at the point of use, while its small footprint enables a clean, safe working environment.
Controlled pneumatically by foot pedal actuation, the LC50BP is easy to use and ensures full and measured shot size control. Furthermore, its parallel fixed ratio drive mechanism ensures consistent processing of material from low to medium viscosity.
The volumetric ratios of the LC50BP range from 1:1 to 2:1 and shot size range from 5cc to 50cc, thanks to Fluid Research's proven 'Posiload' positive displacement technology. This patented technology was developed specifically to overcome the problems normally associated with metering of medium to high viscosity liquids and semi-solid materials. The design of the 'Posiload' pump provides true volumetric displacement and the high metering accuracy is unaffected by changes in output pressure, back pressure and viscosity. The 'Posiload' technology is at the heart of the entire range Fluid Research piston machines, also available from Ellsworth Adhesives, giving confidence to the mix quality and controlled ratio tolerance.
Ellsworth Adhesives is an official distributor of Fluid Research product. To view more products from their range, please visit: http://ellsworthadhesives.co.uk/brands/fluid-research/
To make an enquiry about the LC50BP table top machine, please email infoeurope@ellsworth.com