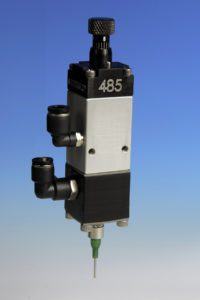 Ellsworth Adhesives Europe is pleased to announce availability of the new Dymax Model 485 needle valve.
The new needle valve by Dymax offers high dispensing precision thanks to its material flow adjustment, which enables shot-to-shot consistency. Created to deliver precise dots or fine beads, Model 485 has a pneumatic needle valve with in-built stroke adjustment and this special design feature facilitates the fine-tuning of dispense volume, ensuring accurate and consistent deposits.
The Model 485 valve is compatible with most standard fluid packages and delivery systems, meaning users can dispense from pressurized cartridges, bottles and pails.
A flexible addition to the Dymax product range, Model 485 is suited to a wide range of applications including glob-top dispensing and dispensing of UV light-curable adhesives in medical-device manufacturing.
Model 485 is available as a stand-alone item for mounting into automated systems, or combined with the Dymax DVC-345 bench-top valve controller and material reservoirs of various styles and sizes. Additional accessories, such as valve stands and various style dispense tips, are also available for this system.
Email infoeurope@ellsworth.com to make an enquiry about Dymax Model 485.