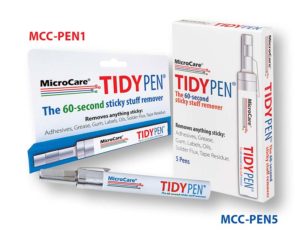 We are pleased to confirm the availability of Microcare's new and improved TidyPen®. Since it was first launched back in the nineties, The TidyPen® has become one of the most popular products within the Microcare portfolio and is considered a 'must have' time-saver for electronics manufacturers, repair shops, medical facilities and more.
Motivated by the product's popularity, Microcare wanted to make the TidyPen® even better. The new TidyPen® retains the best features of the original design while adding new capabilities to achieve perfect cleaning easier and faster than ever before.
One of the most notable changes to the new TidyPen® is its reformulation. The cleaning fluid used within the pen itself has been reformulated, with the new chemistry now safer to use on glass, ceramics, white metals and rubber. The new TidyPen® is also safe to use on plastics and gaskets as well as other construction materials used on PCBs.
Furthermore, this new formulation is more environmentally friendly, having reduced its organic (VOC) content, as well as REACH compliant – a feature that will be welcomed by the tightly regulated European market.
Another key benefit of the new TidyPen® model is its ability to dispense the cleaning fluid more quickly – speeding up cleaning and boosting operator productivity.
As before, the TidyPen® remains an excellent remover of silicone coatings and provides effective cleaning of almost anything sticky – from tapes, labels and glues, to fluxes, inks and conformal coatings. Fast, convenient and precise – The TidyPen® is arguably the most effective way to remove stubborn adhesives.
The TidyPen® is just one of many Microcare products available for purchase from Ellsworth Adhesives Europe including Flux Removers, Bench mounting kits and Circuit Chillers.