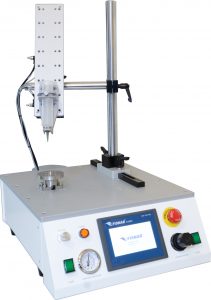 The newly launched Fisnar F1300N rotary dispense table, is now available to order from Ellsworth Adhesives Europe.
Designed especially for tackling circular dispense applications, the Fisnar F1300N rotary table effortlessly dispenses circular patterns or areas that are typically difficult to access.
Its Z-axis tilt enables controlled rotary dispensing at an angle, providing the optimum positioning for the dispense tip. Easily adjusted, the rotary table can dispense we either on a horizontal or vertical wall within a component part or on an outside wall.
The F1300N replaces the existing Fisnar RT404 rotary table model. This newer model has an increased dispensing work area size of 300mm (12"), and is capable of dispensing onto components with a maximum diameter of up to 350mm (14") and a work load of up to 3kg.
The F1300N is easily programmed via an HMI control panel. Rotation speed and degree of rotation can be altered, while pre and post cycle waiting times can be adjusted to suit application requirements, and achieve the perfect dispensing outcome. Additional features include auto-cycle functionality, operator lockout, 7 channel I/O circuit and external control connection for easy integration into safety enclosures or auxiliary machine systems.
The F1300N dispenses from barrels, cartridge or valves using the relevant Fisnar modular robot mounting bracket, and is compatible with most materials including adhesives, silicones, greases and lubricants.
Visit the F1300N rotary dispense table product page to request a quote.