Our range of dispensing equipment has been enhanced with the addition of the new Fisnar multi tasking robot model F9960N. Just launched, the F9960N Robot has been designed for safe and secure dispensing applications ranging from miniature SMT circuit boards to larger PCB's and finished assemblies. Users of the new robot will benefit from a great flexibility thanks to its multi tasking capabilities – the F9960N system is ideal for precision form-in-place gaskets, encapsulation, coating, EMI and thermal-grease applications as well as underfill and sealing projects.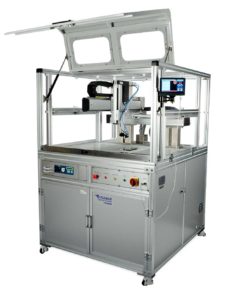 The F9960N is the first Fisnar gantry robot to be mounted within an enclosed free-standing platform. The enclosed environment provides access for fume extraction systems, safeguarding the work force and work place from potentially hazardous substances. Access to the working area is provided by an operator fail-safe, high clearance, security door, which is locked while in operation but easily accessible during programming. The F9960N system can be integrated within a conveyor dependent in-line manufacturing environment or installed as a stand-alone module for independent working.
The F9960N is easy to use – programming a dispense path with unique characteristics, including continuous path and point-to-point routing, is quickly achieved using the interactive 178mm touch-screen display supplied with the system. Other features include software nozzle/tip change alignment routine for quick and automatic program change offsets and step-and-repeat functions for quick programming of multiple and identical objects.
To view a video of the F9960N click here.
If you would like to discuss the F9960N with one of our technical advisors, contact us here.