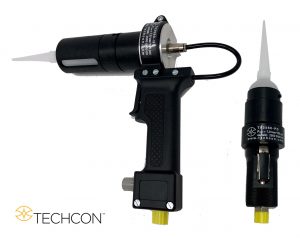 We are now taking orders for the newly launched Techcon TS2560 Series of Cartridge Applicators.
Designed to dispense silicones, grease and other materials, the Techcon TS2560 Appilcator is easy to assemble and operate.
Processing Techcon cartridges with ease, Techcon TS2560 guns have a maximum working pressure of 5.9 bar (100psi), making them perfectly suited to a wide range of aerospace applications.
Light weight with an adjustable retainer to fit cartridge sizes of 2.5oz, 6oz and 8oz, these pneumatic dispensing guns are available in either a palm grip or a pistol grip style, and can be purchased directly on our website.
Ellsworth Adhesives Europe supplies a wide range of industrial dispensing equipment and accessories including manual and automated dispensers. To enquire about your dispensing options, set up a telephone or face to face consultation by emailing: infoeurope@ellsworth.com.