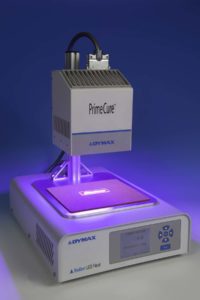 Summer 2014 has seen a number of product launches here at Ellsworth Adhesives Europe and the Dymax Corporation is the latest company to add a brand new product to our existing portfolio.
The new BlueWave LED Flood System from Dymax provides users with faster, more repeatable cure times, thanks to the greater intensity and uniformity produced by the new equipment. With the machine's instant on/off capability, there are no mechanical shutter components, no warm-up time requirements, faster exposure cycles, and lower maintenance costs.
Available with three different wavelength indicator heads (365, 385 and 405nm), the LED Flood allows users to fully optimize the curing process bbetween their light-curable material and the curing system. The system features a generous 5″ x 5″ (12.7 cm x 12.7 cm) active area for curing larger parts and helping to reduce cure times. It isCE certified, RoHS compliant, and offers user-friendly operation, making the BlueWave® LED Flood unit the idealcuring system for manufacturers looking to complement their "green" initiatives.
In addition to light-curing equipment, Dymax also offers adhesives, coatings, and high-performance oligomers aswell as a variety of dispensing equipment, all of which are available from Ellsworth Adhesives Europe. Dymax products are perfectly matched to work seamlessly with each other, providing design engineers with tools to dramatically improve manufacturing efficiency and reduce costs.
To make an enquiry about BlueWave LED Flood System, email infoeurope@ellsworth.com