Materials Mixing Made Simple with the Versatility of a Centrifugal Planetary Mixer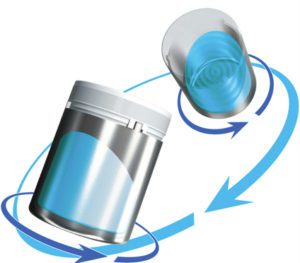 The processes of mixing and degassing materials need not be laborious with the aid of a Centrifugal Planetary Mixer.
A Centrifugal Planetary Mixer is an automatic machine designed to revolve and rotate a container of materials with the end goal of mixing materials and removing any air from them.The beauty of this equipment is that it has been designed to both mix and degas in one simple and programmable machine. By putting the materials into the container, the revolution and rotation can be completed simultaneously. This machine type operates using a mechanism that allows the container housing the material to be revolved in a clockwise direction, while the material itself is rotated anti-clockwise.
The high speed rotation and revolution produces a centrifugal force of 400G, resulting in the depression of the material within the container and the generation of vertical spiral convection.This vertical spiral convection is consistently produced, enabling the materials to be blended and dispersed evenly.
Centrifugal Planetary Mixers have many advantages over traditional mixing and degassing equipment such as a 2 component meter/mix system with a vacuum chamber or Techkit for manual mixing in a cartridge system. While the using of a mixing tool can sometimes break down the composition of a material, a planetary mixer will preserve it. Users can also expect to save time and effort with a Centrifugal Planetary Mixer, since the equipment is very easy to use and the mixing and degassing process is complete in just minutes. Furthermore, the process is more effective with waste reduced to the absolute minimal and lumps and fine air bubbles completely eliminated.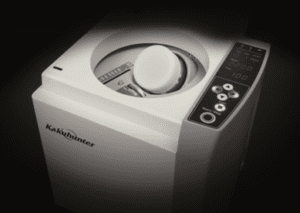 One particular Centrifugal Planetary Mixer on the market with a stand out reputation, is the SK-300S from Japanese manufacturer Kakuhunter. This machine only become available in Europe at the end of 2015 and has been a popular choice for users seeking cost effective mixing and degassing equipment.
With its designated operational panel, the SK-300S is easy to use. End users can choose between a range of different settings and functions that can be adjusted to suit individual requirements. As part of the mix programme, rotation and revolution speeds can be set separately, while balance navigation can be increased to accommodate heavier materials and decreased for lighter materials. Other notable features of the SK-300S include its silent operation and safety features including automatic stop, top lid lock and a maintenance alarm.
To learn more about Mixing and Degassing technology, send an enquiry to infoeurope@ellsworth.com or ask the Glue Doctor a technical question.