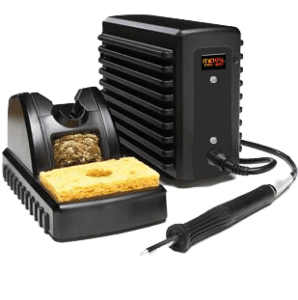 Ellsworth Adhesives Europe has today announced a special '3 for 2' promotion on Metcal's MFR-1110 Soldering and Rework System.
The MFR-1110 Single Output Series is highly versatile in that it can be used with either a soldering tip, cartridge or tweezers and offers a choice of four hand pieces.
Featuring SmartHeat Technology, the MFR-1110 offers power solutions for production soldering, touch-up soldering and SMD rework and is supplied with a soldering cartridge hand-piece and workstand.
By purchasing three units for the price of two, you can make a huge cost saving of £237. Throughout the promotion the total price for three units is £474 compared to a normal price of £711.
In order to take advantage of this fantastic Metcal promotion, simply quote promotional code 'MFR-1110-PR17' when ordering. All orders must be placed on or before 31st August 2017.
Ellsworth Adhesives Europe is an official distributor of Metcal products. To enquire about this system or any other products within the Ellsworth range please contact: infoeurope@ellsworth.com.
Visit the Ellsworth Adhesives Europe website: http://ellsworthadhesives.co.uk/