Ellsworth Adhesives Europe is a distributor of Medical Device Adhesives from top manufacturers including Henkel Loctite, Dymax and Permabond. In this modern day, medical devices are becoming more practical and refined, whether this be for in use outside the body, in the form of instrumentation or surgical tools, or inside the body, for diagnostic monitoring or therapeutic purposes. Medical devices typically consist of components and materials that must be joined in some way. Due to this, adhesives for bonding medical devices should be chosen with the utmost care.
This blog post aims to assist you in making an informed choice when selecting Medical Device Adhesives for your manufacturing process.
What are Medical Device Adhesives?
Adhesive advancements have revolutionized the Medical Device industry over recent years. Previously it was thought medical devices were impossible to glue, however these advancements have seen their use in the production of specially formulated catheters and disposable medical devices grow annually due to their ability to join plastics, metals and glass simply and consistently.
Common Applications
When choosing a Medical Device Adhesive, it is important to note that they are a substrate only intended for short term and are a temporary measure (up to 29 days). It is important to stress that these adhesives are designed for a single-use application and it is the user's sole responsibility to ensure that the medical device is disposed after each use.
Medical Device Adhesives are an advantageous choice for bonding a wide range of substrates, including: UV-inhibited and tinted plastics (found in catheters, reservoirs and housings), needles and syringes, respiratory devices, anaesthesia masks, tube sets and fittings, oxygenators, medical electronics assembly and other disposable medical devices.
Types of Medical Device Adhesives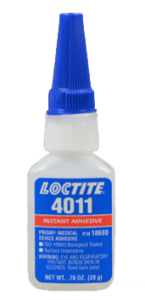 Many types of medical device adhesives are available from Ellsworth Adhesives Europe including light curing adhesives, medical silicones and medical grade cyanoacrylates.
Light cure materials must have a joint which is accessible to light, and as such they are generally used on devices manufactured with clear plastics i.e. acrylic or polycarbonate. A key benefit of light cure adhesives for medical devices is their ability to cure within 30 seconds. These adhesives are guaranteed to adhere well to metals, glass and plastic. As such, tube sets, anaesthesia masks, needle assembles and fluid monitoring and collection devices are often assembled with light cure adhesives.
Medical silicones are used for medical tubing as well as for fluid transfer out of the body including dialysis and catheters. This material type is also used for medical silicone devices for blood pumps, oxygen supply systems, anaesthesia breathing materials, ultrasound equipment and many more. Medical silicones have been tested for biocompatibility and are appropriate to be used for medical applications. Biocompatibility means there is compatibility with the human body and there will be no reaction with any body fluids or tissue. There are three categories of medical silicone; non-implantable, short-term implantable and long term implantable.
Cyanoacrylates are a high performance moisture-curing adhesive and are most commonly associated with tube set and scalpel bonding. Medical cyanoacrylates come in a range of viscosities for easy dispensing and provide good bond strength, high temperature resistance and a short cure.
Benefits of Medical Device Adhesives
A number of benefits of Medical Device Adhesives can be noted including: the ability to cure in seconds upon exposure to UV/Visible light, high bond strength, optimisation of assembly speeds to ensure faster processing and a greater and more efficient overall output coupled with cost effectiveness. These adhesives are guaranteed to withstand the rigours of the product's end use whilst complying with all key regulations.
Key Medical Device Adhesives
Henkel Loctite manufactures a wide range of Medical Device Adhesives including instant, light cure and structural adhesives as well as flexible adhesives and sealants that are certified to comply with ISO 10993 or are USP Class VI approved. In addition, Henkel Loctite Medical Device Adhesives offer improved productivity solutions, a fast cure – whether this be room temperature, UV or heat cure, a consistent bond strength after the sterilisation processes (ETO, gamma radiation or steam) whilst remaining safe and non-toxic.
Henkel Loctite AA 3921 UV Medical Adhesive is a light-cured, acrylic based adhesive which is formulated to provide flexible and durable bonds when joining stress-sensitive plastics. Typical applications of AA 3921 include bonding stainless steel cannulae into hubs, syringes and lancets for needle assemblies.
Henkel Loctite 4011 Medical Device Instant Adhesive is a low viscosity, fast curing, single component cyanoacrylate adhesive which has been specifically formulated for difficult to bond substrates and guaranteed for safe and efficient use in the assembly of disposable medical devices.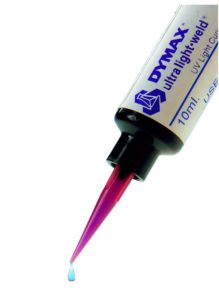 Medical Device Adhesives manufactured by Dymax are ideal for bonding a wide variety of substrates including UV-inhibited and tinted plastics, catheters and needles/syringes. As a result, it is guaranteed that these adhesives are multipurpose and compatible with gamma, Et0 and E-Beam sterilisation. A number of ISO 10993 Biocompatibility tests are undertaken to test efficiency.
Dymax Medical Device Adhesives available from Ellsworth Europe include the 203A-CTH-F-VLV Multi Cure Catheter and Guide wire adhesive which cures rapidly upon exposure to UV and/or visible light. It is specially formulated to cure with heat in applications where shadowed areas exist and is typically used for the bonding of metals in the manufacturing of catheters and guide wires.
The Ultra Light-Weld 1180-M, multi-purpose adhesive is designed for the rapid bonding of plastics and metals typically used in the manufacturing of medical devices. This adhesive offers a number of benefits for device assembly including the ability to cure in seconds and process faster in turn providing a greater overall output and lower processing costs. 1180-M is typically used in the manufacture of reservoirs, needle bonding and medical potting applications.
Permabond also manufactures a variety of disposable Medical Device Adhesives such as face masks, blood collection reservoirs, filters, scalpels and needles. These are produced with light curable, cyanoacrylate and epoxy adhesives to improve quality, increase performance and streamline manufacturing.
Concluding Thoughts

Medical adhesives are incredibly versatile, and over the past two decades, their usage in the manufacture of medical assembly has massively increased. Medical Device Manufacturers have discovered that the secure reliable bond offered by Medical Device Adhesives is superior to other fastening methods.
All Medical Device Adhesives available from Ellsworth Adhesives Europe are ISO approved for biocompatibility.

If you are still unsure which Medical Device Adhesive is best suited to your application, don't hesitate to contact 'The Glue Doctor' who will be happy to analyse your application needs, end product and process requirements and recommend the most appropriate material.