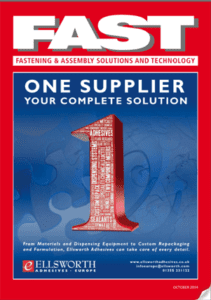 We are currently featured on the front cover of industry publication Fastening & Assembly Solutions and Technology Magazine.
FAST Magazine is the UK's only journal dedicated 100% to the subject of fastening, bonding and assembly.
Within the October issue of the magazine, we discuss our capabilities to provide 'The Complete Solution' in adhesives, adhesive dispensing equipment and repackaging of chemicals. There is also news of the latest product to be added to our portfolio – 3M Acrylic Adhesives.