We are proud to announce that Ellsworth Adhesives Europe was the recipient of a Silver award at the 2013 Raytheon Supplier Awards which took place on Thursdsay 1st May at Balgeddie House Hotel, Fife.
Ellsworth Adhesives earned the prestigious award thanks to its consistently good performance in the areas of scheduling and delivery, quality and price. Special credit must be given to Ellsworth Europe colleagues, Susan McNicol (Customer Service) and Tom Harrison (Sales) whom are responsible for tending the Raytheon Account and have worked extremely hard to maintain a strong partnership.
Ellsworth Adhesives Europe has a long standing relationship with Raytheon, a technology and innovation leader specialising in defence, national security, and other government and commercial markets around the world.
This year is not the first time that Ellsworth Adhesives Europe has picked up a Supplier Award from Raytheon, having received a Bronze award in 2011 and Silver in the years 2009 and 2010. John Henderson, Managing Director of Ellsworth Adhesives Europe comments "We are thrilled to have received yet another accolade from Raytheon. The presentation of this award sends a strong signal of our ability to supply our customers with an excellent product and service."
Ellsworth Adhesives Europe is honoured to be a Strategic Preferred Supplier to Raytheon and hopes that their strong working relationship will continue for the foreseeable future.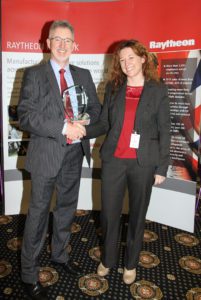 Lisa Usher of Raytheon, presents Ellsworth Adhesives Senior Sales Engineer, Tom Harrison with the award.