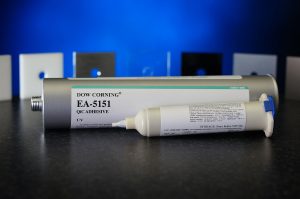 Leading distributor of industrial adhesives and adhesive applicators, Ellsworth Adhesives Europe is delighted to announce the addition of the new Dow Corning EA-5151 to its product portfolio.
This 'Quick in Connect' (QiC) adhesive has been formulated to accelerate electronic assembly and increase production throughput.
Available as a one-part silicone formulation, Dow Corning EA-5151 is applied as a warmed liquid with a plunger-equpped gun or a robotic dispenser. It cools to a solid viscoelastic material, ensuring primerless adhesion to a broad range of metals and plastics, including substrates that are difficult for many alternative solutions to adhere to.
A neutral cure RTV adhesive, EA-5151 has been aligned with transportation electronics market trends to offer a key solution to support vehicle efficiency improvement with overall increased safety, enhanced comfort and entertainment. This adhesive has been designed for use in automotive electronics and industrial environments on energy control units, sensors, displays including entertainment, navigation and communications, battery packs and other components requiring attachment, gasketing, lid seal, connector sealing or adhesion.
A unique feature of EA-5151 is its utilisation of silicone technology, which in turn achieves instant green strength when dispensing. This green strength cures to become a strong mosutre-cured silicone adhesive and allows the user to handle assembled parts immediately after application. Overall this minimises waiting time, reduces energy costs and mitigates the need for assembly aids. Combining as a fast-green strength at room temperature, ensures a more efficient alternative to heat-cured adhesives, double-sided tapes and mechanical fasteners is always on hand.
Additional features of Dow Corning EA-5151 include: long open time and pot life, no part warm up time, service temperatures from -45 to 150°C and the option to be used in conjuction with standard heat assisted dispensing equipment.
Ellsworth Adhesives Europe is an official distributor of Dow Corning Silicone Products. To enquire about this system or any other Dow Corning products within the Ellsworth range please contact infoeurope@ellsworth.com.
Visit the Ellsworth Adhesives Europe website: http://ellsworthadhesives.co.uk/brands/dow-corning/