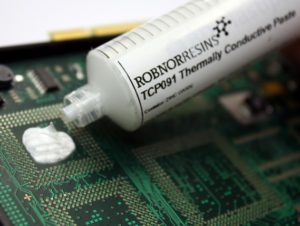 Ellsworth Adhesives Europe is pleased to confirm availability of TCP091 – Robnor ResinLab's newly launched silicone-free paste. This new product has been specially formulated to provide efficient and reliable heat transfer across the interface between electronic components.
Developed to optimise performance, TCP091 is highly viscous, a property that helps prevent slumping. Since Robnor ResinLab TCP091 is silicone free, it dissipates without the migration or contamination that is commonly associated with silicone based products. Furthermore, TCP091 is easily applied with excellent flow and low separation in the syringe.
As a general purpose thermal management paste, TCP091 is a virtually "no-bleed", versatile compound that will not dry out, harden, melt, or run – even after long-term continuous exposure to temperatures up to 130°C.
TCP091 is REACH and ROSH compliant and is available in 10ml & 30ml syringes and 1kg & 25kg bulk containers. To enquire about this product, please email infoeurope@ellsworth.com.
Ellsworth Adhesives Europe is an official distributor of Robnor Resins and supplies their full range of epoxy and polyurethane resin systems.
Visit the Robnor ResinLab product page on our website.